PETERBOROUGH — Gord Downie's voice echoed through the speakers inside Mitch Champagne's classroom on Tuesday morning (Oct. 31).
The Grade 6/7 Immaculate Conception students sat motionless as the haunting melodies of Seven Matches from Downie's Secret Path played. The song was accompanied by the animated illustrations of Jeff Lemire moving across the smart board at the front of the class.
The song is one of 10 Downie wrote about Chanie Wenjack's journey to escape a residential school in Kenora in 1966. The 12-year-old boy died on the train tracks while trying to walk home to the family he was taken from 650 kilometres away.
"He had seven matches and during the whole song he's talking about keeping them dry," said Champagne to the class after the song finished. "Those matches probably brought him hope so he could get home and see his family again. How important would that one match be for him?"
Champagne then tasked his students to come up with one word to describe the feeling Chanie may have felt when there was only one match left.
Although some responses varied, most of the kids in the classroom said "scared."
Read more...
Transform : let life be born and born again
Join us in supporting a nation-to-nation art exhibition
First Nations and Canadian painters
March 26 - April 4 2019
Arta Gallery, Distillery District Toronto
be transformed, together
We live in Ontario as a result of the historical treaties and agreements made with the original Nations of this land.
Living in Toronto, we continue to build coalitions and partnerships in our personal and professional work, through businesses, languages, arts, and cultures.
In this show, we come together to represent ourselves as individuals - but connected by a universal human theme.
That theme is transformation.
a salient national priority
Canada is committed to Reconciliation
We are in a new era of improved and renewed relationships, to redress the past
The Truth and Reconciliation Commission's Calls to Action urges reconciliation
across all sectors, including public dialogue, the arts, and business partnerships.
giving back
In this spirit of partnerships, a percentage of our sponsorship proceeds will be donated to Rotary HIP – Honouring Indigenous Peoples, a Rotary sanctioned registered charity.
HIP was created by Rotarians from across Canada in partnership and consultation with Indigenous people. Their board is 50% Rotarians and 50% Indigenous partners.
HIP supports community and educational efforts, and encourages Canadians to be aware of indigenous perspectives and priorities.
For more information: www.rotaryhip.com
Join us as a sponsor!
Creative marketing on all our materials
Expanding your database
Aligning with national mandates
We've Got Options
exposure and affiliation:
Located in the booming Waterfront Community
Toronto Tourists spend over $7 billion
Distillery is a tourist hotspot, designated as a National Historic Site of Canada
Inspired by SoHo in New York City
Local population of ~3,000
Over 100 other local tenants
Standing Banner - 7 feet
Exhibition & Artists
Thank you to our sponsors
$1000 YOUR LOGO $2,000 YOUR LOGO
$1,000 YOUR LOGO
$500 $500 $500 $500
Partnership Testimonials
[We] came away with Evelisa's art and her event inspired, strong, and excited to go out into the world and make a difference. -
Sandie Green, Senior Vice President, Head of Global Corporate Events & Sales Planning, IMAX Corporation
We are excited to hear from you!
Questions/comments/discussion: This email address is being protected from spambots. You need JavaScript enabled to view it.
ig: @evelisanatasha
Art installation seeks to reconcile through the creative process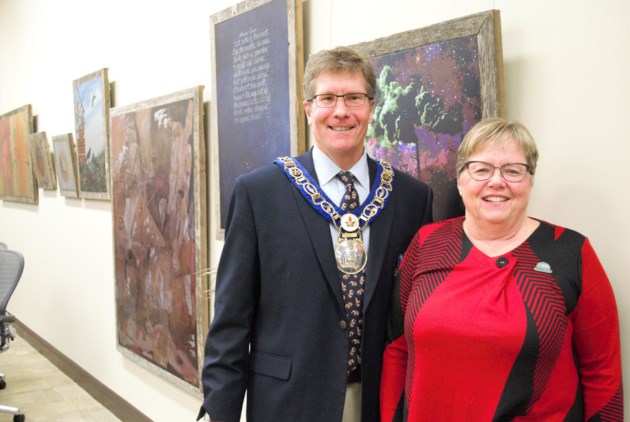 Mayor Brian Saunderson and Coun. Kathy Jeffery take in the new art exhibit that will adorn the walls of council chambers until March 8, called Call to Action #83. Jessica Owen/CollingwoodToday
The Town of Collingwood unveiled a new reconciliation art project in council chambers on Monday night.
The project is titled Call to Action #83 after the Report of the Truth and Reconciliation Commission Action #83, which calls upon Indigenous and non-Indigenous artists to undertake collaborative projects and produce works that contribute to the reconciliation process. The project is a collaboration between the Town of Collingwood and the Wawasayguming Arts and Culture Board, and will be on display until March 8.
Project Curator Mary Louise Meiers brought together eight Indigenous artists and eight non-Indigenous artists (including local artist Peter Adams) in a quest for truth and reconciliation through sharing, learning, and collaboration.
"Artists chose the order in which to make their artwork, alternating non-indigenous with indigenous," explained Meiers in a video shown to council. "The first artist who was non-Indigenous, had two weeks to create his piece and then handed it to the first Indigenous artist and with it, shared his creative process. The next artist responded to the piece and in two weeks brought her artwork to the third artist, telling about her process. This continued with each artist being inspired by the previous artist in the quest for a shared vision."
The result is a linked series of artworks that reflect past experiences while envisioning a future toward reconciliation.
The public is invited to view the panels during council and committee meetings, or Thursdays in January and February between 11 a.m. and 1 p.m., or by contacting This email address is being protected from spambots. You need JavaScript enabled to view it. .
The public is also invited to a presentation and discussion called Envisioning a Future Toward Reconciliation, at which Meiers will talk about the project along with some of the artists and presiding elders. The presentation will be followed by a screening of Gathering Circle and open discussion and will be held on Jan. 30, from 7 p.m. to 8:30 p.m. at the Simcoe Street Theatre. The event is free to attend, but guests are asked to reserve seats.
For more information or to reserve seating, click here.]
Story of Collingwood's Awen Gathering Circle inspires documentary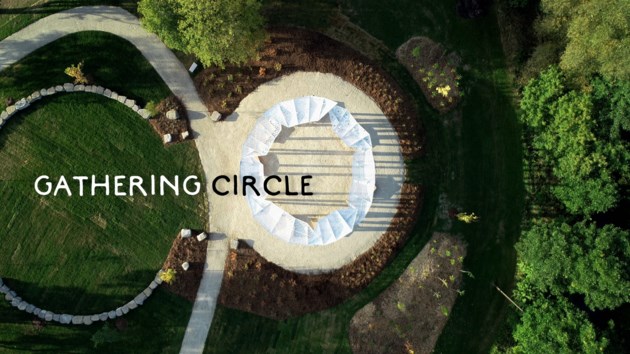 The title screen from a documentary produced by Mountain Goat Film Company and the Town of Collingwood on the Awen Gathering Circle, which will premier on Jan. 30.
What began as a short how-it's-made video on the construction of Collingwood's Awen Gathering Circle, became a documentary about collaboration along the path to reconciliation.
Tom Strnad, one of the filmmakers on the project said the film became more than a behind-the-scenes look at the design and construction of a structure as soon as he began interviews with those involved. Initially, the town wanted a short video showing how the gathering circle was made. As the filmmakers dove into how it was made, both Strnad and the town began to see the story went deeper than laser-cut steel and cleaning up an old landfill.
The Gathering Circle was created with the direct involvement of indigenous architects, and the idea was inspired by a concept Dr. Duke Redbird came up with – to pair seven Ojibwe grandfather teachings with the seven layers of a food forest.
Tom and Tracy Strnad of Mountain Goat Film Company Inc. co-produced the short film, called Gathering Circle, with the Town of Collingwood.
"The amount of Indigenous spaces designed by Indigenous architects is really limited," said Strnad. "So that's really unique."
The ten-minute film includes interviews with Cal Brook of Brook McIlroy and Ryan Gorrie, one of the Indigenous architects on the design team.
"The story behind this is perhaps more important than the thing itself," said Gorrie in the film.
For Strnad, Gorrie's observation rang true.
"Seeing it come from basically a pile of what used to be a landfill there … Witnessing the opening ceremonies and learning the stories, the spiritual journey of it, and the journey the film took as well, it really comes together in its own way," said Strnad. "There's something special [about the gathering circle]. I think it really brings everyone together. I think it's a really important step in the truth and reconciliation process."
In fact, the film is part of the agenda for a town event called Envisioning a Future toward Reconciliation on Jan. 30. The presentation and discussion, which takes place from 7 p.m. to 8:30 p.m. at Simcoe Street Theatre will include a screening of the documentary, a presentation by Mary Louise Meiers on the Call to Action #83, a reconciliation art project that has combined indigenous and non-indigenous artists brought together to reflect past experiences and envision a future toward reconciliation through their artwork.
Some of the artwork from this project is currently on display at town hall.
Meiers' presentation will include some of the artists and presiding elders. The evening will conclude with an open discussion.
Tickets to the event are free, but the town is asking guests to reserve a spot online here, or by emailing the Arts and Culture department here. This email address is being protected from spambots. You need JavaScript enabled to view it. .
Strnad said he is currently working with the town to get the film into various film festivals around the world.