The Red Cross helped evacuate the Island Lake communities of Garden Hill, St. Theresa Point and Wasagamack during the 2017 wildfire season. (Trevor Brine/CBC)
The chief of a northern Manitoba First Nation says she's already worried the summer wildfire season could bring more than just smoke to her community.
St. Theresa Point Chief Marie Wood says evacuations are always nerve-racking for many who live in the community of about 4,000 people. But this year, the risk of evacuees being exposed to COVID-19, and bringing it back to the isolated First Nation, adds to the stress.
"That's going to happen if they have to stay in a hotel," she said, of a potential scenario that would see people moved out of the community into hotels in Winnipeg.
"We want to keep our elders safe."
Wood's community, which is about 465 kilometres north of Winnipeg in the Island Lake area, and only accessible by air, was among several First Nations evacuated in the summer of 2017 due to wildfires.
Nearly 1,100 people from St. Theresa Point — and thousands more from other Island Lake communities — were moved to Brandon and Winnipeg.
Forest fire evacuees from three Manitoba First Nations line up in halls of the RBC Convention Centre in August 2017. (Caroline Barghout/CBC)
Many of those evacuees were lodged in hotels, but hundreds of others ended up in large communal spaces like Winnipeg's convention centre and a soccer complex.
In a statement, a Manitoba spokesperson for the Canadian Red Cross said those kind of shelters are used only as a last resort if hotel capacity is exceeded.
"While we can't speak to hypotheticals, I can say that our team is preparing to provide support for any First Nation in this province that may need support during an emergency," said Jason Small. Those preparations include pandemic protocols that focus on physical distancing, he said.
"If an evacuation is necessary, the Red Cross will provide support while focusing on the safety of all people involved."
Read more ...
Resolving Disputes Within Adversarial Systems. Member Spotlight: David G. Newman, Q.C.
March 2, 2020 By Ben Lutz
David is a strong believer that we are all part of one humanity, one loving energy. He is currently a director of Rotary District 5550 in Winnipeg and Chair of its World Peace Partner Committee. He advocates for the inclusion of restorative justice and alternative dispute resolution in Manitoba's legal system and advocates for the abolition of nuclear weapons and other existential threats to humanity to be understood and urgently addressed. In 2017, David and the Dean of the University of Manitoba Law School collaborated to host a conference for nuclear disarmament issues at the Canadian Museum for Human Rights in Winnipeg. The gathering was attended by participants from around the world. A book was published with articles of the presenters focusing on the moral and humanitarian implications of nuclear risks and threats.
https://mediatorsbeyondborders.org/resolving-disputes-within-adversarial-systems-member-spotlight-david-g-newman-q-c/
NEWS: Advice to Western Civil Societies, from a Long-term First Nations Ally
May 11, 2020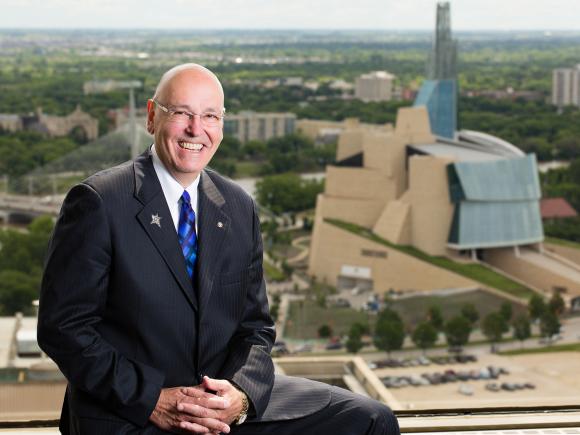 Canadian Attorney and Friend of IPI David G. Newman, Q.C., of Winnipeg, Manitoba, Canada is featured in the recently published Supreme Advocacy article "Advice, and Urging, from a 50-year Lawyer in the Middle of Canada."
Newman's call to action includes the admonition that western hemisphere governments can and should work to right the wrongs of the past. This will benefit everyone, not just the descendants of the survivors of those wrongs. But doing so:
"now requires more work: such as acknowledgement of wrongdoing, apologies, systemic change actions, building trusting relationships, equality and justice. Reparation to redress past wrongs is also required."
Newman is also a leader of the Rotary organization on the local, national, and international levels, and he explains the understandings he has gained over the course of his stellar career in terms of basic Rotary values.
Click here for the full article: https://supremeadvocacy.ca/2020/05/06/advice-and-urging-from-a-50-year-lawyer-in-the-middle-of-canada/
On Indigenous Nurses Day, meet 2 women bringing First Nations perspectives to health care
Jaymie Bowers and Isabelle Wallace are two of the many nurses being celebrated on Indigenous Nurses Day during National Nursing Week.
"It's important to have those Indigenous health care workers that our people can actually relate to"
https://www.cbc.ca/news/indigenous/indigenous-nurses-day-may13-1.5568790
Lenard Monkman

·

CBC News

·

Posted: May 13, 2020 7:29 PM ET | Last Updated: May13